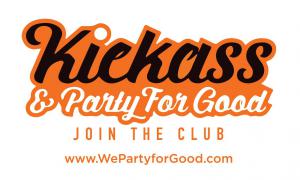 Join the Only Club Rewarding Rockstars in Life Travel Funding to Experience the Best Parties Every Season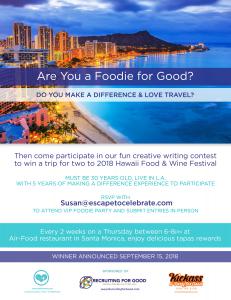 Rewarding Rockstars in Life Fun Creative Writing Contest, Participate to Win a Trip to 2018 Hawaii Food and Wine Festival
www.hawaiifoodandwinefestival.com
Kicka$$ and Party for Good the social club is running a creative writing contest sponsored by Recruiting for Good, and has chosen 8 Kicka$$ women to be judges
Kickass and Party for Good celebrates our Rockstar women judges who will choose the winner for the Creative Writing Contest. Winner will enjoy a trip for 2 2018 Hawaii Food and Wine Festival in Maui."
— Carlos Cymerman, Passionate Founder, Kickass & Party for Good
SANTA MONICA, CA, UNITED STATES, June 1, 2018 /EINPresswire.com/ — Kicka$$ and Party for Good is hosting fun foodie parties for participants to compete and submit creative writing in person. The judges for the contest are; Alicia Havens, Carmel O'Mara Horwitz, Christy Bell, Claire Arnaud-Aubour, Kristen Hetzel,Jasmin Chassagny, Solene Jouan "Lou", and Susan Loughmiller.
Contest is running from May 31, 2018 to August 31, 2018 and winner will be announced on September 15, 2018 and enjoy a trip for two to Hawaii Food and Wine Festival in Maui (flights, 3 night hotel stay, and 2 tickets to main event).
According to Recruiting for Good Founder, Carlos Cymerman, "We are grateful for our judges participation, who are rockstars in life; we met our judges thru our "Escape to Celebrate,''Kickass & Party for Good' and 'Our Moms Work,' community events."
How Will Winner Be Selected?
A panel of independent judges will choose winner on the following criteria;
1) Creative writing submission is high quality, authentic, real, and impactful.
2) How individual makes a difference in the community, what has been their contribution?
3) Character references (from 3 people); support individual's values and virtues.
Writing submissions will be kept confidential, and only shared with judges for the contest.
About
Recruiting for Good, a socially progressive staffing company in Santa Monica, finding talented professionals kicka$$ jobs, since 1998. Companies retain us to find the best talent in Accounting/Finance, Engineering, and IT professionals. "We support Our Moms Work, a fun community service." And reward referrals with travel to celebrate life, visit: www.RecruitingforGood.com.
http://www.WePartyforGood.com [Kicka$$ and Party for Good __title__ Kickass and Party for Good], is a fun invite only social club in L.A. for 'Rockstars in Life' that make a difference every day. Members enjoy access to travel funding service provided by Recruiting for Good to the World's Funnest Parties Every Season (Fall 2018 Hawaii Food and Wine Festival in Maui, Winter 2018 New Years Eve Party in Sydney, Australia, Spring 2019 Multi-Sport World Championships in Pontevedra, Spain, Summer 2019 Edinburgh Festival Fringe, Scotland).
The Hawaii Food & Wine Festival is the premier epicurean destination event in the Pacific. The Festival features a roster of more than 150 internationally renowned master chefs, culinary personalities, and winemakers and mixologists. Hawaii Food & Wine Festival (HFWF) is a program of the non-profit, Hawaii Ag and Culinary Alliance. Its mission is to attract national and international attention to the extraordinary culinary talent and the diversity of quality locally grown products to ensure Hawaii maintains its competitive edge as a world-class destination. In the past 8 years, HFWF has expanded from a three-day festival with 30 chefs in Waikiki to more than 20 events with over 10,000 attendees and 120 chefs spanning three Islands. Since its 2011 launch, HFWF has donated more than $2 million to community organizations that support sustainability, culinary programs and agriculture.
Alicia Havens is a DJ in LA, has worked for "Our Moms Work' community party. She's well known for performing and emceeing the American Heart Association's Los Angeles Heart Walks in 2016 and 2017. www.AliciaHavens.com
Carmel O'Mara Horwitz, visual story teller "Transforming Lives thru Creative Arts & Crafts," teaches Art at www.Our MomsWork.org community parties.
Christy Bell, is owner of her small business, Spoil Me Fresh www.spoilmefresh.net, a shopping and cooking service for those challenged by time, nutrition and/or the culinary arts. She is also a member of the Board of Directors for The Unknown Artists Theater Group where she is Director of New Works, choosing among hundreds of submissions plays for the group to perform. In her spare time she is an actor and also provides story editing services to a few clients.
Claire Arnaud-Aubour, SpLAshPR Agency Founder, originally wanted to become a lawyer after graduating from law school in France, but her passion for entertainment and people took her on a very different path. Bright and efficient, she invests in each new project and supports the interests of her clients. Claire leverages her talents as a seasoned communications professional and an event organizer. www.SplashPRAgency.com
Kristen Hetzel is an athlete and member of Team USA. Kristen is ranked #6 in the world as a Duathlete and recently finished first for the United States at the 2015 ITU Duathlon World Championships in Adelaide, AU. Chosen as "Kickass Rockstar of the Year" by Kickass & Party for Good. www.KristenHetzel.com
Jasmin Chassagny, www.FrenchinSantaMonica.com, A native Parisian who now calls Los Angeles home, has been teaching French to Angelinos for over 7 years. Educated at La Sorbonne and Institute Juridique d'Aquitaine, she will share her mastery of French language.
Solene Jouan "Lou", PR Project Manager at www.SpLAshPRAgency.com She earned two Master's degrees in PR & Communication from the prestigious French School of Professional Attachés and INSEEC business school in France, she has a master's degree in English Literature. Prior joining to SpLAshPR Agency, she has worked with various agencies, multiple fashion brands as well as governmental organizations, TV & media where she learned to master developing graphics, business development & social media management. Lou can't wait to increase your business' visibility.
Susan Loughmiller is a longtime activist in Santa Monica and surrounding Westside Los Angeles communities. She was an award-winning journalist for 20-plus years at major metropolitan newspapers around the country until the birth of her first child, Matilda, whom she parented singly while working fulltime in the nonprofit community. She is the recipient of the Communitas Award in Santa Monica for her lifelong body of volunteer work. She works in the executive offices of the Jewish Federation of Greater Los Angeles and outside of work she enjoys design, reading and editing, singing, playing drums, and being a Mom. Her daughter is attending college where she is studying to become a band director. Susan is the COO (Chief Opportunity Officer) for www.OurMomsWork.org
Carlos Cymerman
Recruiting for Good
3107208324
email us here

Source: EIN Presswire