Eco-Cuisine's Gr. Beef used to make a plant-based or meat based meat loaf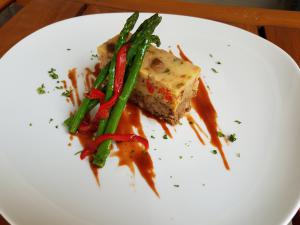 This is a take-off on the Shepherd's Pie Using Gr. Beef with Beans
New Hybrid Protein Integrates the Best of Both Plant-Based and Meat to Create a Delicious, Healthy, and Affordable Protein for Food Service and Retail Accounts
BOULDER, CO, USA, April 30, 2018 /EINPresswire.com/ — Chef Ron Pickarski of Eco-Cuisine has developed a sustainable hybrid protein integrating the finest characteristics of plants and meat into one product that delivers on taste, nutrition, and cost. By creating a unique protein made up of 35-40% meat and 60-65% plant-based protein, Eco-Cuisine has tapped into the future of meat consumption.
UNIQUE CHARACTERISTICS OF ECO-CUISINE'S HYBRID FLEXITARIAN ® PROTEIN
 Can be used to replicate any recipe that contains ground beef, chicken, or pork
 Hybrid proteins are a fusion of two proteins with one being meat based and the second one plant
based. No fillers in the meat protein
 No shrinkage or reduction in yield in the cooking process
 The plant protein absorbs the meat flavor and texture in the cooking process
 Unlike cooked meat, Eco-Cuisine's Hybrid Protein can be re-hydrated to maintain a superior texture if
over-cooked
 When compared to a meat product the hybrid protein contains approximately the same amount or more
protein, contains more dietary fiber then meat, and less cholesterol
 Chefs have the option to set the fat percentage and type of fat used
 Chefs and retail consumers can save up to 15% on meat cost
 Easy to use for professionals and home cooks – minimum time and skill required
Eco-Cuisine's blended meat Flexitarian® proteins function similar to a hybrid car that operates on two sources of energy. Hybrid proteins function on two different protein sources giving the consumer the benefit of consuming a protein that is good for the health of the individual, the planet, and their food cost.
ECO-CUISINE PLANT-BASED VEGETARIAN PROTEINS EXPLAINED:
 Eco-Cuisine developed a line of speed scratch vegan plant-based protein mixes (Ground Beef, Sausage,
and Chicken) that have the taste and texture of real meat
 Eco-Cuisine's proteins are plant-based with no animal ingredients
 The products were designed to function either independently as vegan proteins or combined with meat
to create hybrid proteins
 The proteins have the taste and texture of ground meat through the use of unique plant-based
ingredients
 The proteins contain natural protein binders similar to collagen in meat which hold and reabsorb
moisture
 Eco-Cuisine's proteins can substitute for meat in any recipe or menu item, reducing both inventory
and special food preparation time to create a plant-based option.
 Chefs and consumers can save up to 50% versus purchasing a frozen product (i.e. frozen veggie
burgers).
LUX, an International Marketing and research firm, doing market research on the human consumption of protein projects that 'Alternative Proteins to Claim a Third of the Market by 2054". Using Plant proteins in combination with animal proteins gives plant proteins another innovative role in developing a new generation of sustainable proteins to reduce meat consumption while continuing to consume meat.
Chef Pickarski is a certified meat cutter, culinologist, book author, and seven time International Culinary Olympic Medalist with plant-based vegetarian cuisine. He became a plant-based vegetarian for health reasons 42 years ago, and at age 69 is reaping the benefits of his decision. As omnivores, meat should be a small percentage of our protein intake. Chef Pickarski created the Flexitarian® hybrid meat concept to help those seeking healthy meat options to achieve that balance.
Eco-Cuisine® was founded in 1992 as the first plant-based food service focused brand in the United State specializing in speed-scratch plant-based proteins and pastries. Its products are vegan with dairy, egg, and meat options enabling the chef to develop vegan and Flexitarian® menus with one product. Products are available through food service distributors and on line to both food service and retail consumers.
To learn more about this unique protein (purchasing proteins, recipes, and culinary assistance) contact Ron Pickarski at ron@eco-cuisine.com.
Ron Pickarski
Eco-Cuisine, Inc.
303.402.0289
email us here

Source: EIN Presswire