Protein Brokers, LLC , Pre-cooked Eggs Brand , Temptee Specialty Foods
Pre-cooked Eggs Brand Scrambled Eggs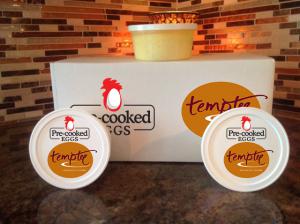 Temptee Specialty Foods has developed the MOST UNIQUE COOKING AND PASTEURIZATION PROCESSING PROCESS TO COOK SCRAMBLED EGGS AND RETAIN MOISTURE WITHOUT FILLERS
Temptee Specialty Foods has been supplying Pre-cooked Eggs to Burrito Manufacturing Companies in Colorado for over 8 years with their Unique Cooking and Pasteurization Process."
— Jack Lowe President / CEO
DENVER, COLORADO, UNITED STATES, July 24, 2018 /EINPresswire.com/ — Pre-cooked Eggs Brand Cage Free Eggs goes National with the help of Colorado Women-Owned and Managed Protein Brokers, LLC. Temptee Special Foods has appointed Protein Brokers, LLC as their Master Broker for Pre-cooked Eggs Brand, Temptee Brand and Oldtimer Brands.
Protein Brokers, LLC will be appointing brokers around the country to help support Burrito Manufacturing Companies, Retail Grocery Chains with HOT and COLD Deli's, Food-service Distributors, Sandwich Making Operations, Restaurants, Hotels, Senior Care Facilities, Hospitals, Salad Bars and Health Food Stores.
Temptee Speciaty Foods processes the Pre-cooked Eggs Brand scrambled eggs with only eggs from the Cage Free Hens at Hickman's Family Farms without fillers or additives. Temptee only adds a small amount of citric acid to the Hickman's Family Farms Cage Free Eggs to make the PRE-COOKED EGGS BRAND SCRAMBLED EGGS.
Marlene Seward President of Protein Brokers, LLC has arranged for PRE-COOKED EGGS BRAND TO DONATE $0.05 CENTS PER LB. PURCHASED TO EASTERSEALS COLORADO TO HELP KIDS AND ADULTS WITH DISABILITIES OR TO A CHARITY OR ORGANIZATION THAT THE BUYER CHOOSES. BEHOLD THE POWER OF EGGS AS EVERY POUND SOLD MAKES A DIFFERENCE FOR SOMEONE IN NEED.
PRE-COOKED EGGS BRAND CAN ALSO BE PURCHASED IN PALLET QUANTITIES ONLINE WITH A CREDIT CARD on the Pre-cooked Eggs website to give companies the opportunity to get those valued reward points.
Barney Roy Seward
Protein Brokers, LLC
7204750330
email us here

Source: EIN Presswire